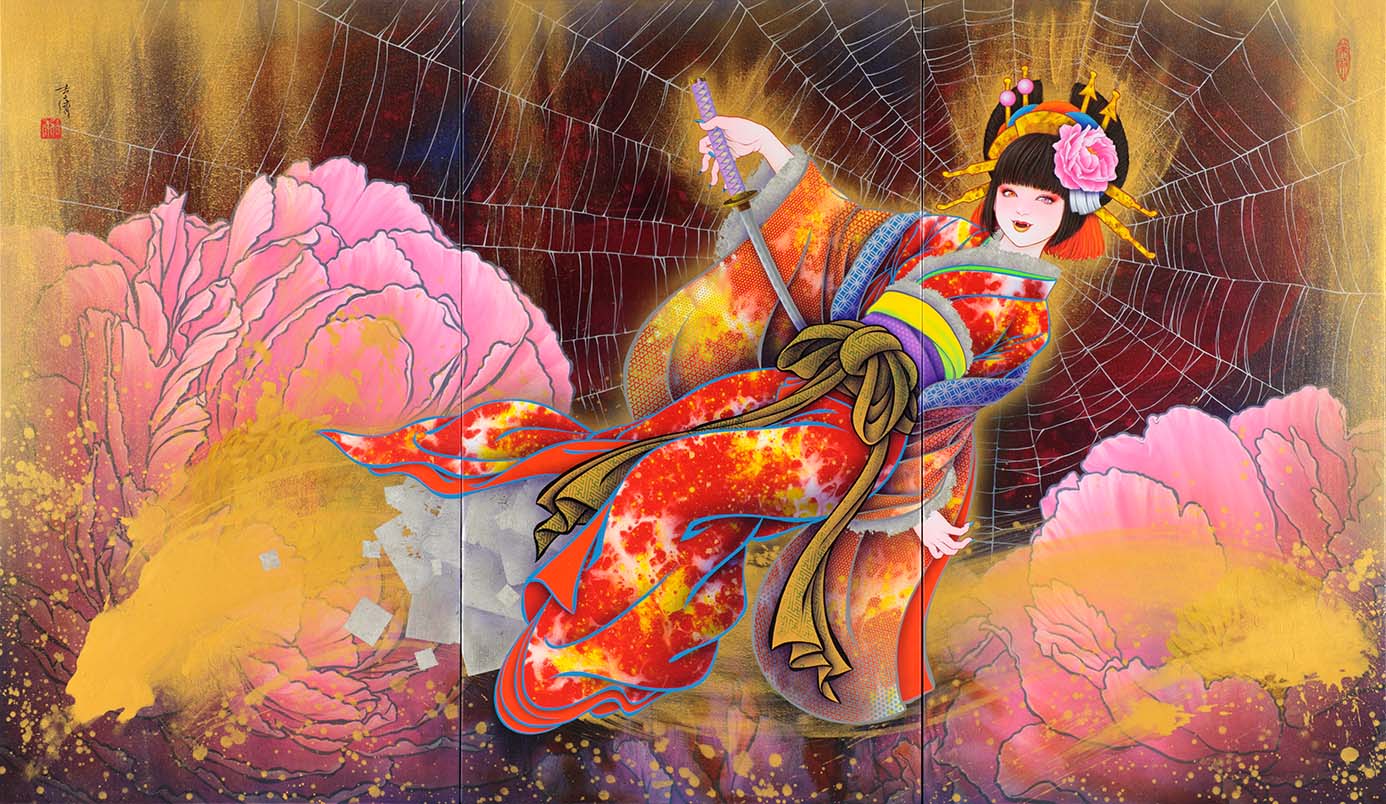 Jorōgumo
2017, acrylic and gold leaf on canvas, 135 x 231 cm (3 x 135 x 77 cm)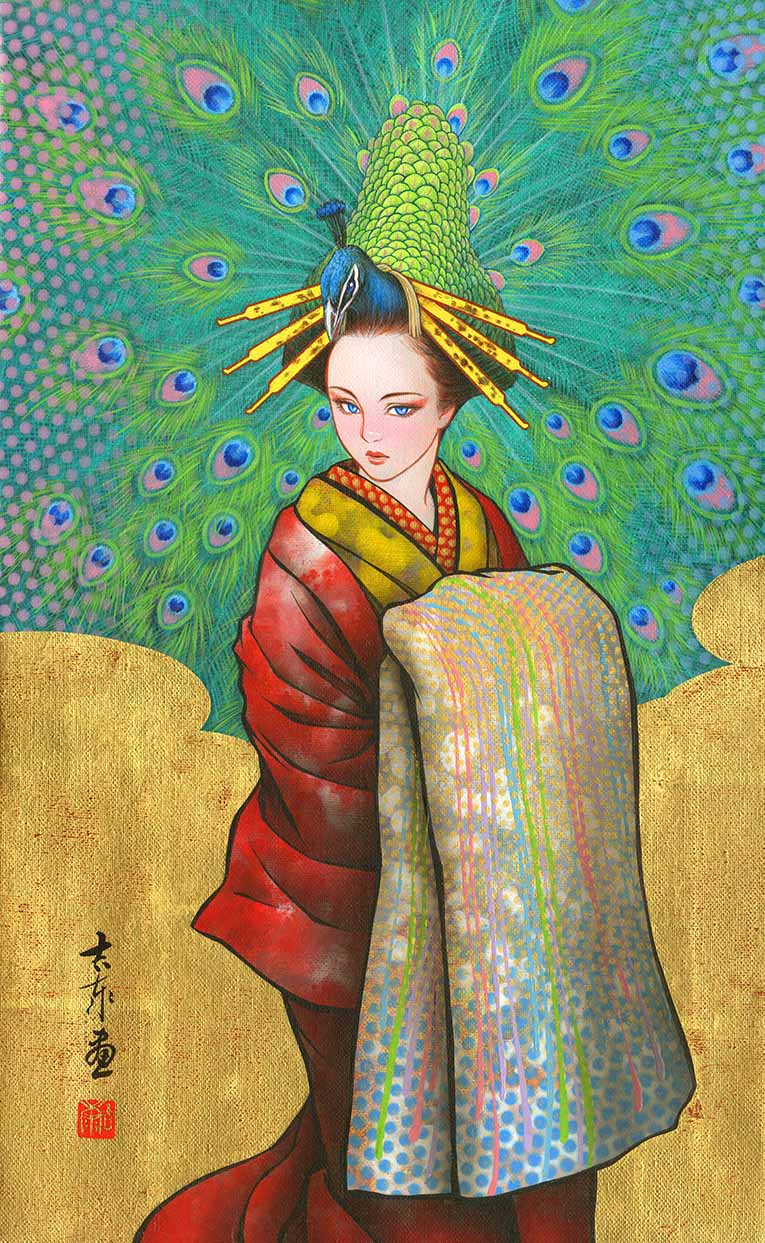 Mahamayuri
2016, acrylic and gold leaf on canvas, 53 x 33,3 cm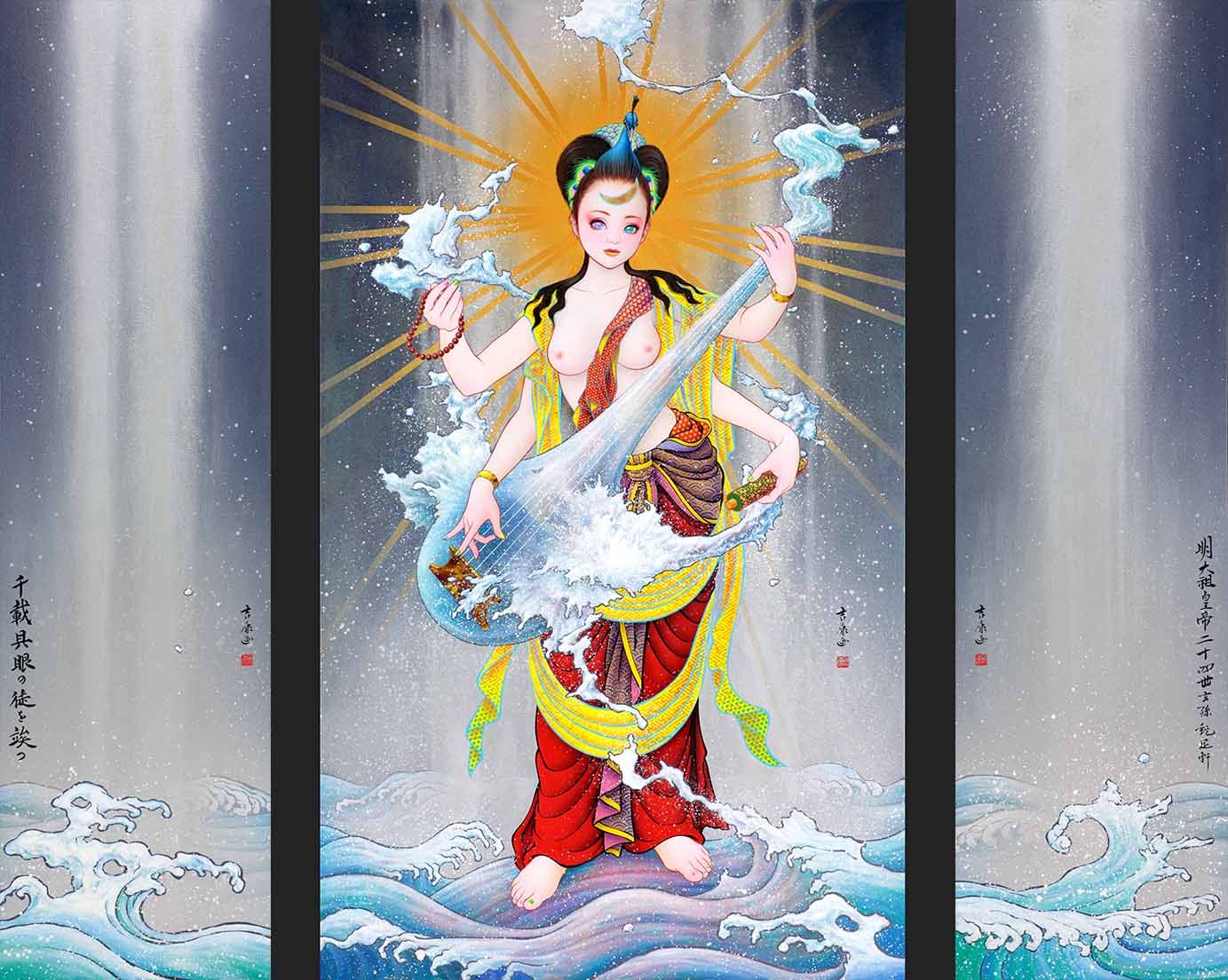 Sarasvati
2017, acrylic on canvas, 162 x 188 cm (triptych)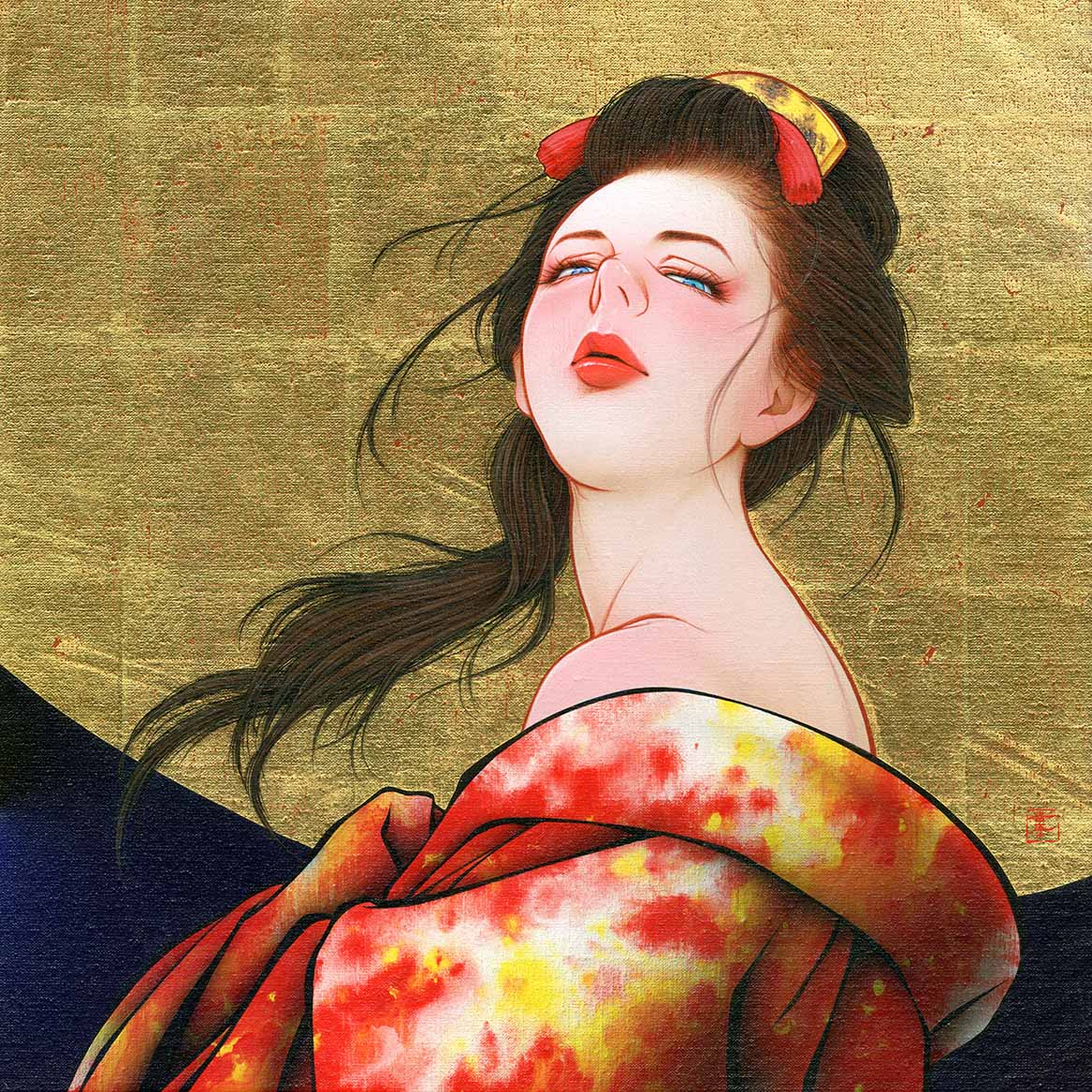 Under the Moon
2017, acrylic and gold leaf on canvas, 50 x 50 cm
Connection
2014, acrylic painting, gold leaf, on canvas, 79 x 60.7 cm
Takada - Matsubara
2017, acrylic painting, gold leaf on canvas, 91,5 x 58,5 cm
Cat-ch
2017, acrylic painting, gold leaf on canvas, 91,5 x 58,5 cm
Samurai Bunny
2017, acrylic and gold leaf on canvas, 79,6 x 57 cm
Rai-Gou-Zu
2014, acrylic painting, gold leaf on canvas, 162 x 150 cm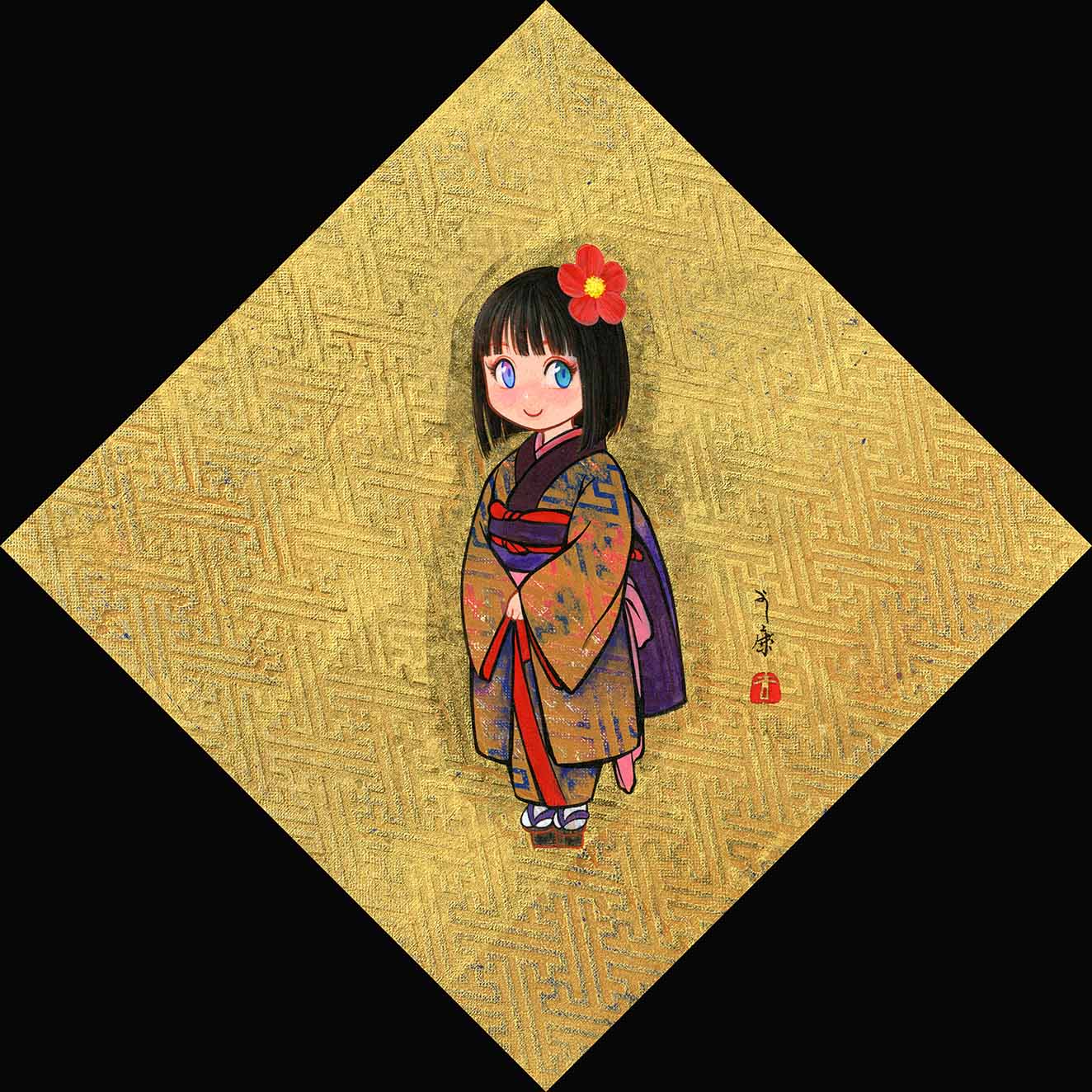 Dressing Up
2017, acrylic and gold leaf on canvas, 27 x 27 cm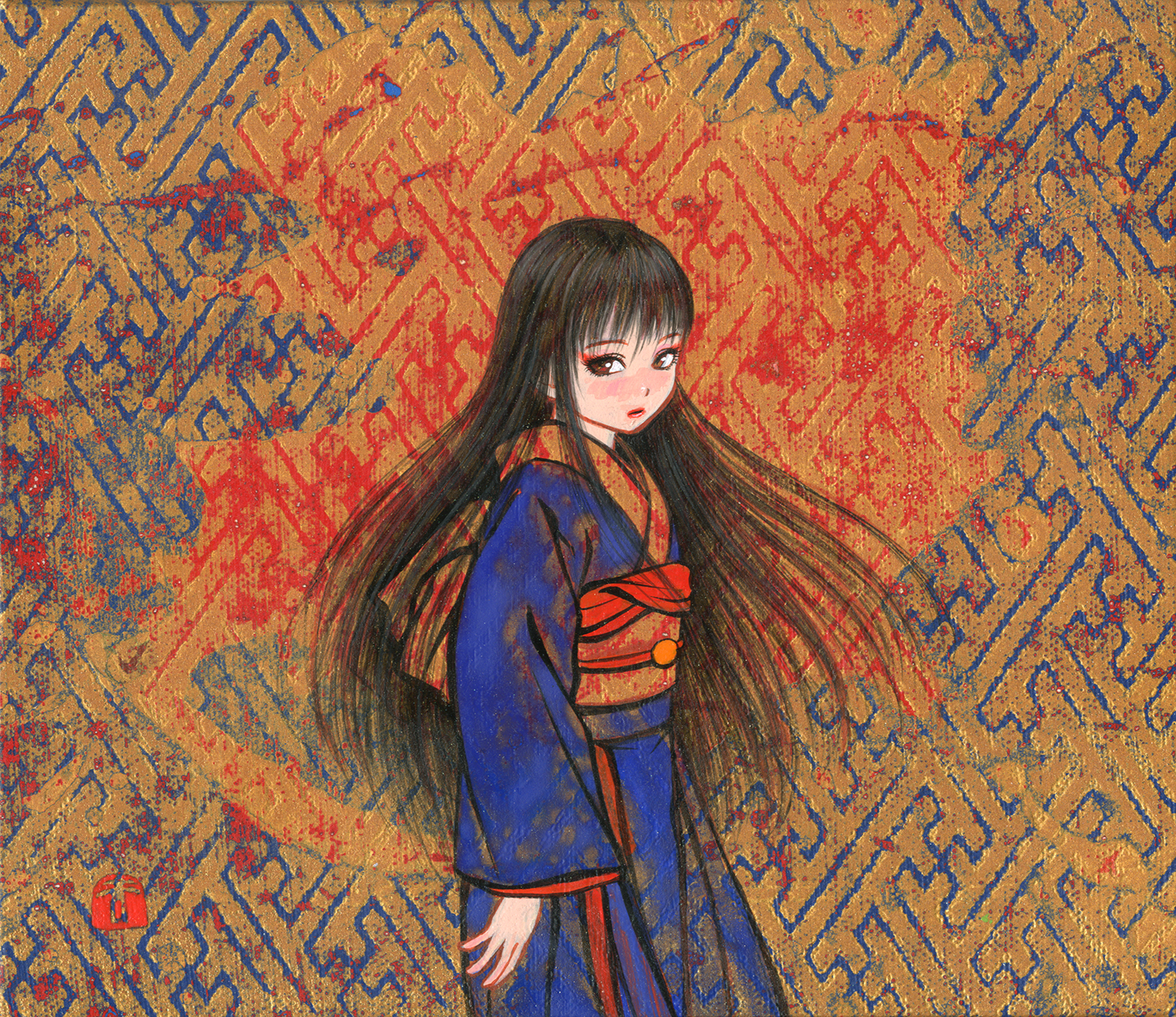 The Nights of Dreams
2017, acrylic and gold leaf on canvas, 18,5 x 21,2 cm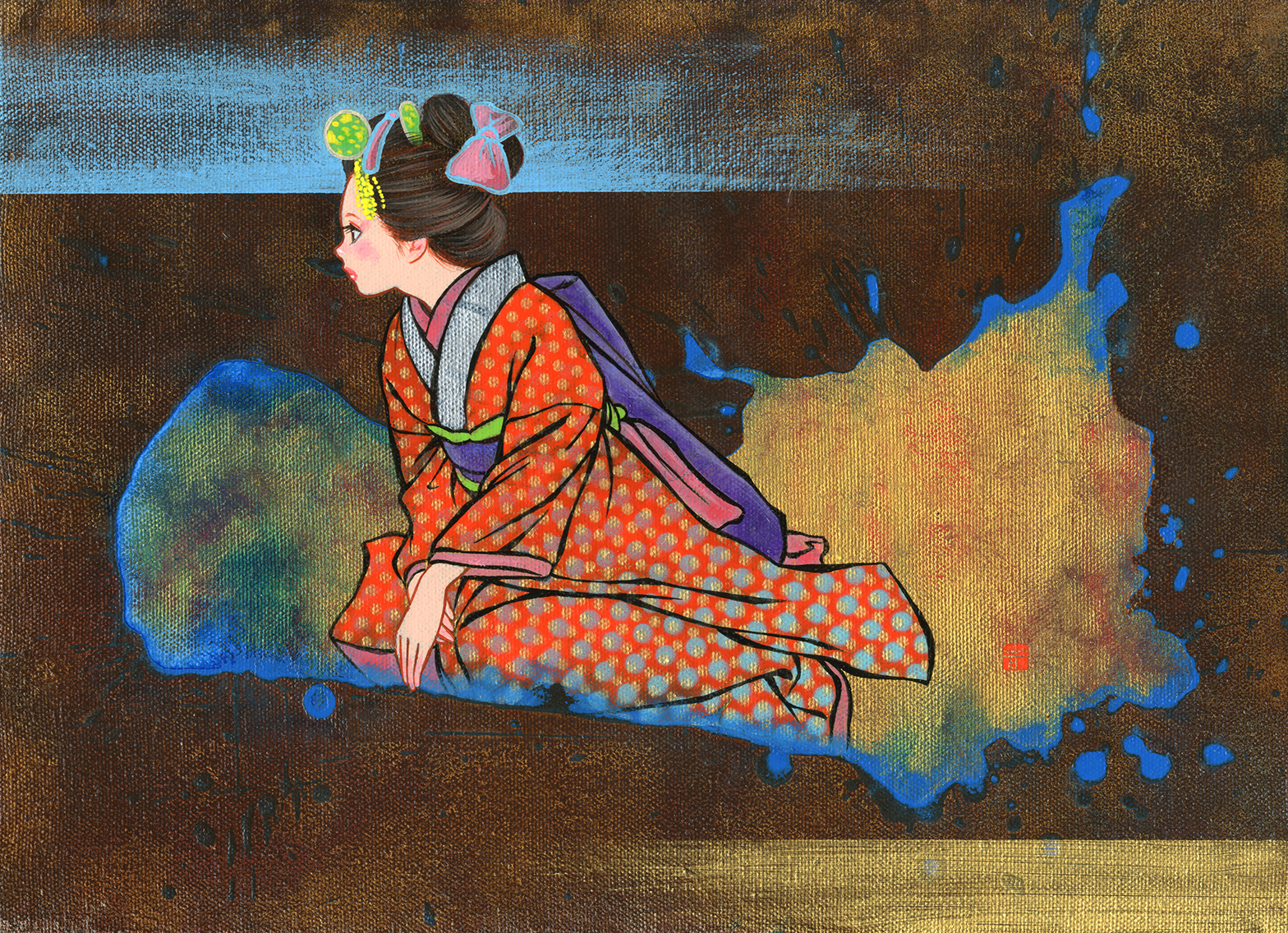 Wachet auf, ruft uns die Stimme
2017, acrylic and gold leaf on canvas, 24,4 x 33,5 cm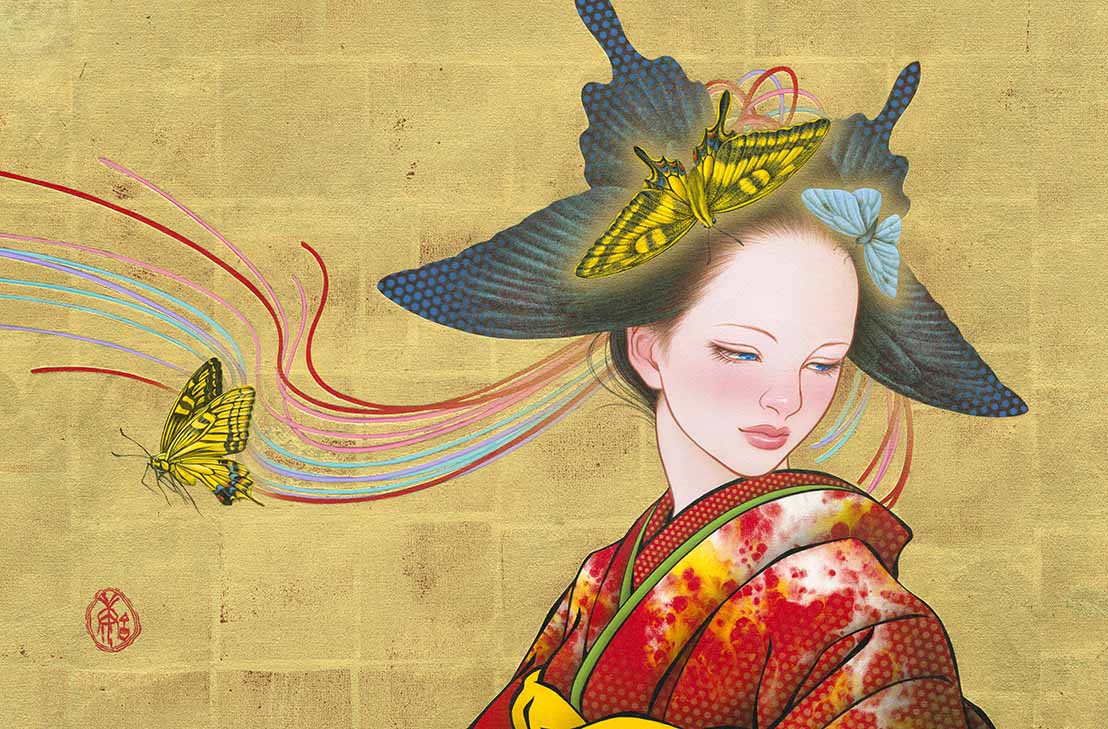 Bowknot
2015, acrylic and gold leaf on canvas, 53 x 80,3 cm
Takada-Matsubara
2017, acrylic and gold leaf on canvas, 91,5 x 58,5 cm
Orca
2017, acrylic painting, gold leaf on canvas, 45 x 50 cm
Samurai Bunny
2014, drawing on canvas, 62 x 100 cm
Butterflies (Inspired by Takeji Fujishima)
2013, acrylic painting, gold leaf on canvas, 91 x 91 cm
Fairy Tale
2014, acrylic painting, gold leaf on canvas, 28,3 x 61,8 cm
Comet Fox
2014, acrylic painting, gold leaf on canvas, 79.6 x 122 cm
Zero Moment
2014, acrylic painting, gold leaf on canvas, 60 x 88.4 cm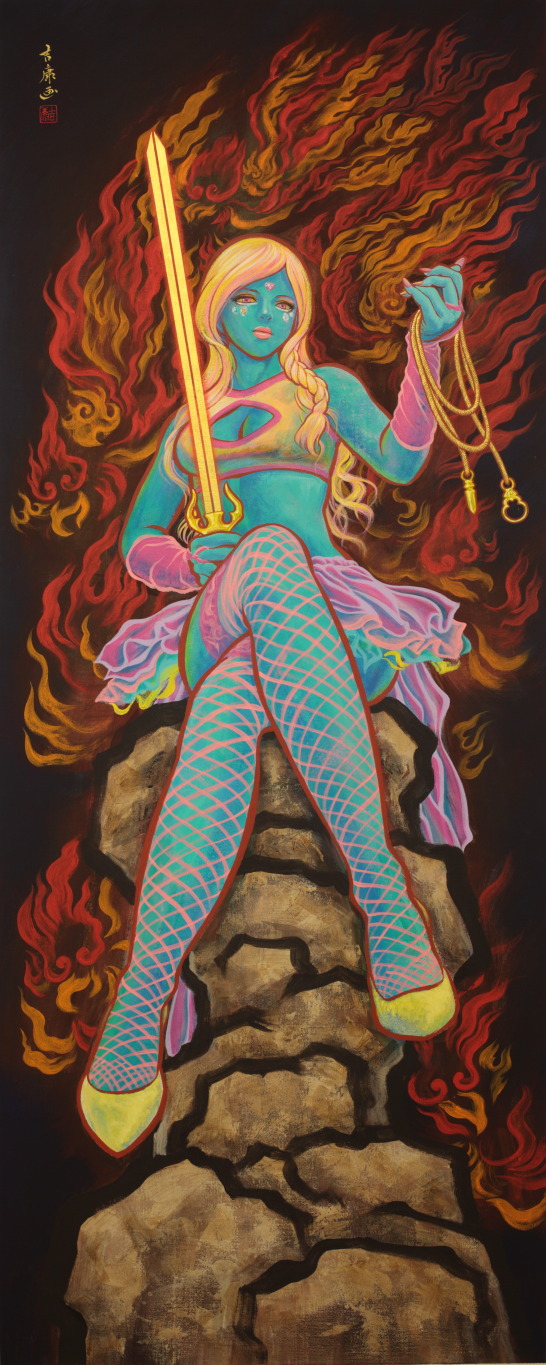 Blue Acala
2017, acrylic on canvas, 187 x 74,5 cm
Requiem
2015, acrylic on canvas, 140 x 80 cm
At Your Service
2016, acrylic on canvas, 230 x 260 cm
Yoshiyasu Tamura (1977, Gunma, Japan) is called a mangaka and honoured as a hero in his home country Japan. But this description alone does not do justice to his reputation. Besides being a cartoonist he is also a celebrated artist, illustrator and technical genius. Mexico City, Basel, Taipei, Los Angeles, New York and Florence cover a fraction of cities where his works have been exhibited and he has collaborated with no one less than fashion designer McQ Alexander McQueen. Now his latest works have found their way to Amsterdam. They will be on display in KYAS ART SALON from the 23rd of February till the 21st of April. Not only for fans of Japanese pop culture this is a must-see. Also for lovers of Western painting a visit could be more than worthwhile.

Tamura's style is best described as a point blank culture clash; a mix of traditional Japanese drawing, manga and western painting. East meets west. Women play the leading part in most of his works. These women are not depicted in a realistic fashion but are glorified through the ideals of manga culture in which eyes play a crucial part. On the other hand Tamura's works are clearly inspired by western renaissance; women are attributed godlyfeatures, just like in the world of manga. Also other styles from the renaissance can be found, like the use of gold plate. "When I was 15 years old I traveled abroad for the first time in my life. Especially in Italy I was struck by the beauty of religious works. They finally became the foundation for my later work.

Tamura aims for the decorative and extravagant, mainly by the use of rich colors and pigments. "My goal is to find a common between western and japanese painting, modern manga and animé. It is an art to rediscover and redisign these elements.
Ayumi
watercolour on paper, 23,5 x 30,5 cm
Miyako
watercolour on paper, 18 x 25,3 cm
Sara
watercolour on paper, 22,3 x 29,3 cm
Memories of Barcelona
ink on paper, 29,2 x 42,4 cm
Mizuki
watercolour on paper, 18 x 25,3 cm
Design of Samurai Bunny I
watercolour on paper, 36 x 50 cm
Design of Samurai Bunny II
watercolour on paper, 40 x 50 cm
Walking
watercolour on paper, 14,5 x 22 cm
The Bottom of the Water
watercolour on paper, 23,5 x 31 cm
The Broom
watercolour on paper, 18 x 25,3 cm
Dancing I
watercolour on paper, 18 x 25,3 cm
Dancing II
watercolour on paper, 18 x 25,3 cm
Dancing III
watercolour on paper, 18 x 25,3 cm
The Colors
watercolour on paper, 26,8 x 26,8 cm
Sakura
watercolour on paper, 18 x 25,3 cm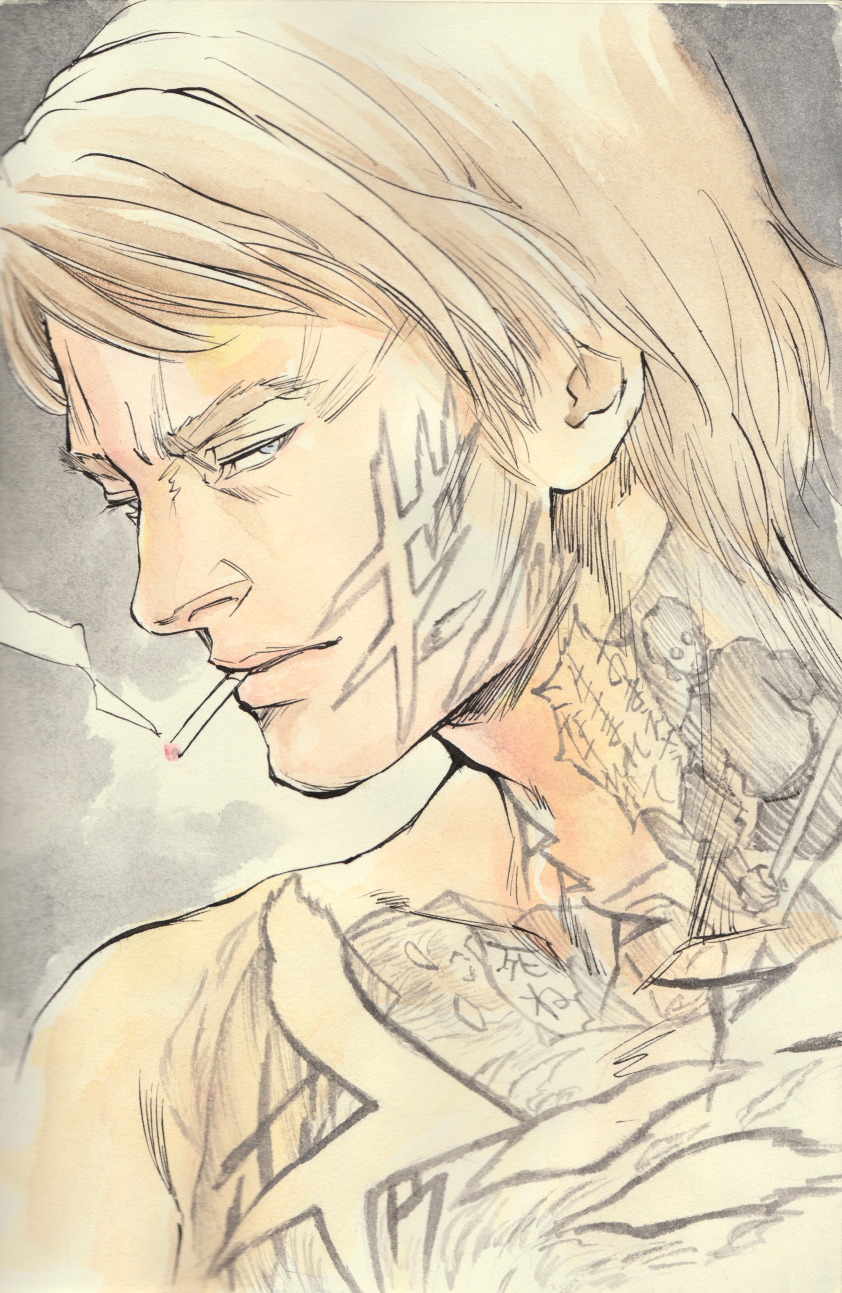 Sketch for Takamagahara Project
watercolour on paper, 15 x 21,5 cm